SALUTE TO SINATRA & THE LEGENDS
The brand new show from the original star of The Rat Pack – Live from Las Vegas & Salute to Sinatra – featuring The Hollywood Orchestra.
Hot on the footsteps of West End hit productions The Rat Pack and Salute to Sinatra, comes Louis ultimate solo concert show 'MY WAY! SALUTE TO SINATRA & THE LEGENDS. Louis got it right with The Rat Pack and Salute to Sinatra so it looks like he has done it again.
The Rat Pack's millions of tickets sold worldwide, proved the enormous popularity and public demand for this fantastic genre of music, followed by Louis' sell out touring concerts of SALUTE TO SINATRA culminating at the Royal Albert Hall and London Palladium.
"Olivier Award Nominated"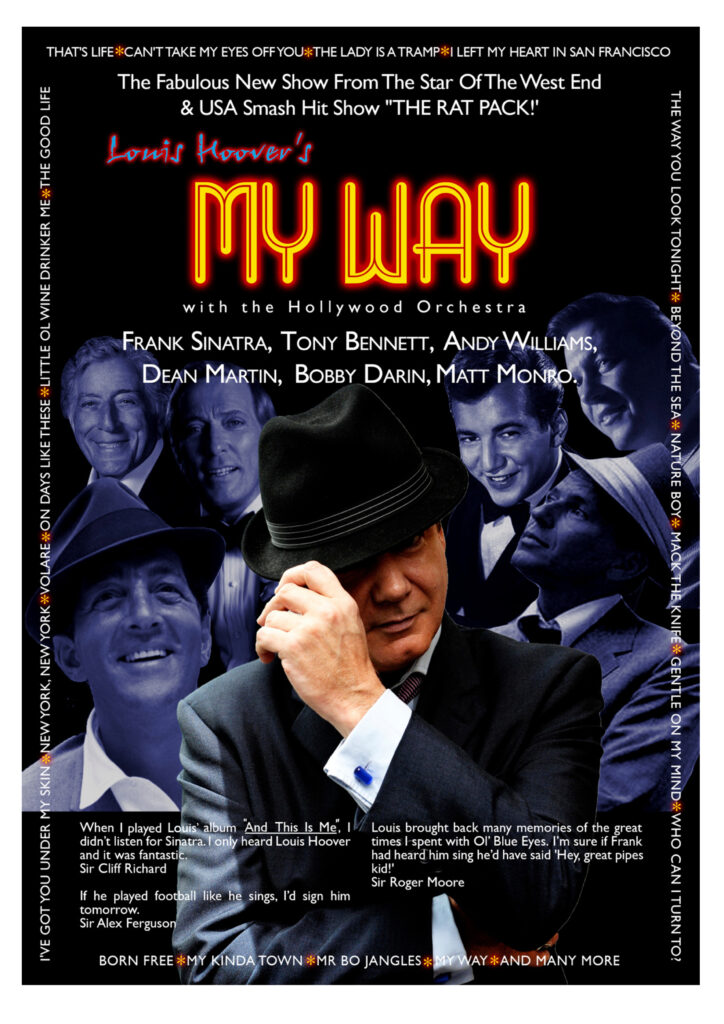 "THE RAT PACK"
Aside from his brilliant, critically acclaimed, portrayal of Sinatra in THE RAT PACK show, Louis was signed to Ronnie Scott's Jazz House record label as original jazz artist in his own rite, completely away from his RAT PACK and SALUTE TO SINATRA shows. He has performed with the world's greatest jazz legends; GEORGE BENSON, AL JARREAU, MICHAEL BRECKER, KENNY BARRON, CONTE CANDOLI, HELEN MERRILL, KEN PEPLOWSKI, GUY BARKER, CLEO LAINE & JOHN DANKWORTH at international jazz festivals throughout UK, Europe, Japan and the USA and writes his own songs.
"Swing with a modern attitude. If he actually has a 'mission' at all, I'd say it is to pre serve the legacy of the music Sinatra and Bennett championed, but by taking that genre a step further'.
London Evening Standard.
AND THIS IS ME
Louis' album And This Is Me…' combines a contemporary feel with his unique vocal sound, set off by the reflected stylised influences of Sinatra, Tony Bennett, Bobby Darin and other past masters, backed by an amazing UK A list personnel orchestra and as Sinatra himself once said, 'British musicianship is the best in the world'.
Subsequent 'Jukebox Musical' sensations like Dreamboats & Petticoats, The Jersey Boys and Let It Be also testify to the public's never ending appetite for great melodies and classy lyrics, if they are performed faithfully.
Louis is one of the few genuine masters of the craft left performing some of the greatest songs ever written, with those familiar classic arrangements, we all know and love from our own cherished music collections. Louis' natural and razor sharp wit also adds to the huge feel good factor of his shows.
Louis 'MY WAY' is a 'Greatest Hits Feel Good Treat of a Show' featuring the music of TONY BENNETT, ANDY WILLIAMS, MATT MONRO, BOBBY DARIN, plus a few surprises thrown in for good measure…
Remaining true to his roots, Louis also weaves in the best of SINATRA, SAMMY DAVIS JNR and DEAN MARTIN including the show stopping MY WAY which had the audience on their feet…yet again!
Louis changes of vocal tone, from a whisper when necessary, to soaring stylized vocals, shows his range, power and mastery igniting each song with the vocal spirit originally intended by the songwriters.
And therein lies the gold; we get to hear and see some of the greatest songs ever written, performed precisely as we all know and love them.
Jazz Legend Ronnie Scott saw Louis perform at his famous London club and invited him to record his debut album on the Ronnie Scott's Jazz House label which is an offer any aspiring young jazz artist would die for. The album is called simply 'Louis Hoover'. Later Louis was to be nominated for a Grammy for his orchestral backed album called 'And this is me..'.
More heavyweight musical endorsements soon followed from jazz legends Michael Brecker, Cleo Laine, John Dankworth, Conte Candoli, Guy Barker and more.
With the enthusiastic support of giants like Sir Alex Ferguson, Sir Roger Moore, Sir Cliff Richard and the music loving public Louis is now firmly in a class of his own.
If you happen to love some of the best music ever written, played by the world's finest musicians, then Louis Hoover's MY WAY – SALUTE TO SINATRA & THE LEGENDS is definitely a night out not to be missed..!
Joanna Forest London Theatre Tickets – The Public Reviews Louis Hoover's MY WAY – SALUTE TO SINATRA & THE LEGENDS – Copyright LIP